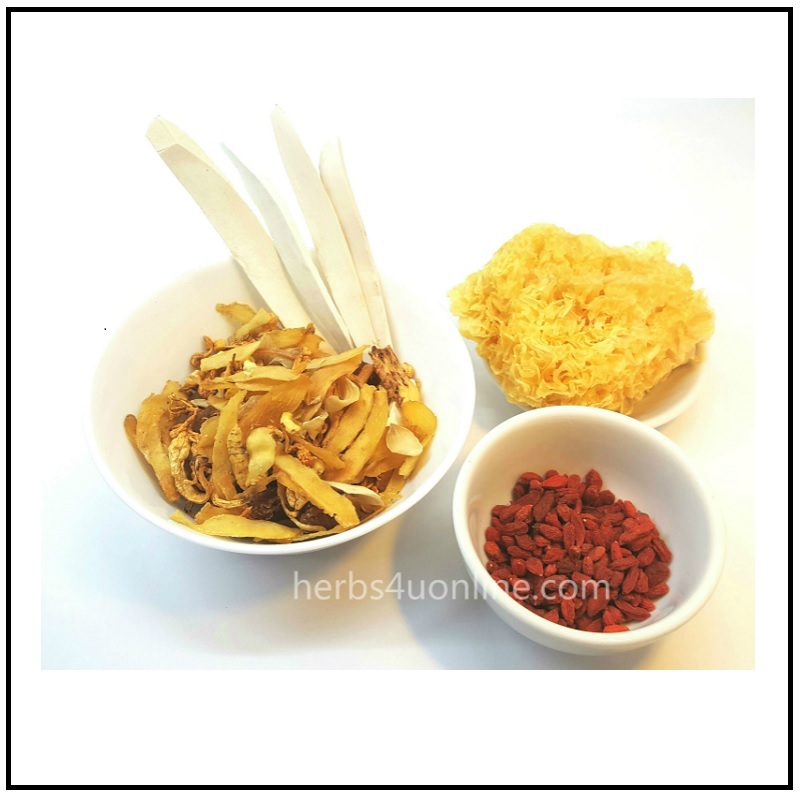 雪耳润肺提神汤
适合人士:男女皆可,年龄不限 ,孕妇、素食者皆可食
材料:雪耳,淮山,枸杞,龙眼,百合,玉竹,虫草,虫草花
功效:养颜美白,消暑解热,养阴生津,清热润肺,且能加强新陈代谢,有美白润肤之效。
烹调方式:
1. 把所有药材清洗干净。
2. 锅中放入约2000毫升的清水将,所有材料放入锅中,用猛火煲制水滚,改用小火续煲两个半小时为佳,关火放入适量的盐调味。
Suitable for any age of men and women, suitable for vegetarians.
Materials: White Fungus, Chinese Yam, Wolfberry, Longan, Lily Bulb, Polygonatum Odoratum, Cordyceps, Cordyceps flowers

Efficacy: Clears heat, moisturises the lungs, nourishes the Yin, and moisturises the body. It also increases the metabolism of cells, in the process whitening and moisturising the skin.

Cooking:

1. Clean all herbs with running water.

2. Put 2000ml of water in the pot with all ingredients. Bring to boil over high heat. Turn to low heat and continue to simmer for 150 minutes. Season with salt.
Customer Comments
| Author/Date | Rating | Comment |
| --- | --- | --- |
---